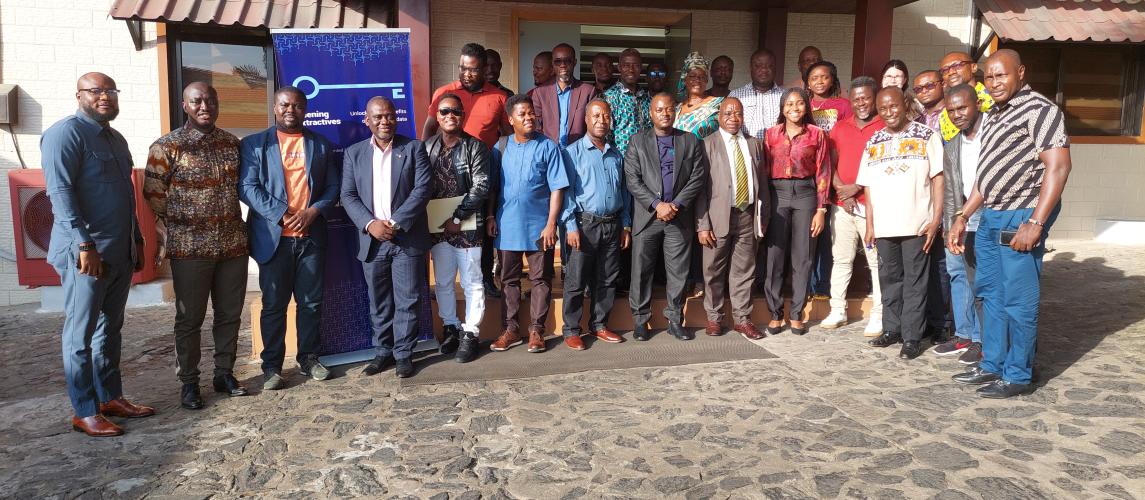 LIBERIA GETS CLOSER TO BUILDING A BENEFICIAL OWNERSHIP REGISTER
As Liberia gets closer to the full establishment of a Beneficial Ownership regime, a call has been made for an inclusive participation of all stakeholders for the benefit of the Country.
Speaking at a one-day consultative session on Liberia's draft BO Regulations and declaration forms, the Head of Secretariat of the Liberia Extractive Industries Transparency Initiative (LEITI) Jeffrey N. Yates admonished stakeholders to see the one-day engagement as an opportunity to taking the national fight against corruption to another level.  "A Beneficial Ownership regime is important for the country, and it is everyone's business. It would help to curtail tax evasion, fight frauds and other forms of corruption." He avowed.
The one-day event brought together more than forty participants across a broad spectrum of stakeholders in the corporate, civil society, line government ministries and agencies, the legislature and music industries as well as the Liberian media to deliberate on a draft beneficial ownership regulation for Liberia including the review of templates or data collection forms.
In July 2021, the Liberian Government agreed to join the Opening Extractives Programme, a brainchild of the Open Ownership (OO) which is being conjointly implemented with the Extractive Industries Transparency Initiative (EITI). It is dedicated to enabling governments and companies to disclose high quality and open beneficial ownership information, build capacity of key stakeholders to use and analyze BO data and organize regional and global peer exchange programs to facilitate sharing of implementation challenges, opportunities and successes.
Since the launch of the OE Programme in September of 2021, Liberia has made commendable progress.  A scoping assessment report on the current regime on Beneficial Ownership (BO) and recommendations on how to advance BO reforms was recently published with steps taken to implement the recommendations.
One of these key steps is the establishment of a regulatory framework to enable effective disclosure of beneficial ownership data. "In August 2022, we developed a decision document and organized a consultation with key stakeholders to deliberate and agree on core aspects of the planned BO regulations. These decisions have now translated into a draft BO regulations and declaration forms for which the consultation was required." Mr. Yates disclosed.
For her part, Favour Ime, wants stakeholders to provide honest feedback on the draft documents that will lead to comprehensive regulation for the Country. Ms. Ime, who is the Regional Manager of Africa Open Ownership, noted, "We really want them to share their thoughts and opinions with us. We also want to see whether they can test the drafted forms/regulation and whether they can actually use it to make improvements—have them finalized so that the government can make it into law. Liberia's journey towards achieving corporate transparency and tackling illicit financial flows presents a multitude of opportunities. However, these opportunities can only be maximized if the government and other major stakeholders have a clear understanding of the current regime on beneficial ownership, the gaps with this regime and the practical steps needed to make progress." The energetic lawyer maintained
Also speaking to the media, the Register General of the Republic of Liberia expressed optimism that the attainment of BO Register for Liberia is finally getting to the finish line. "We want to ensure that we finalize this document in the first quarter of next year if everything goes well. We want everyone to know or have an idea of what the BO regulation is about, so we have brought together people from CSOs, concessions affected communities, private sector and others. With the calibre of people, we have brought here, we are hopeful that we will have a very fruitful discussion. We are confident that at the end of the day, we will leave from here with a document that will culminate into a regulation." Samson Dee assured.
The BO Regime implementation is spearheaded in Liberia by a National Steering Committee which includes the Liberia Extractive Industries Transparency Initiative (LEITI), the Liberia Business Registry, Ministry of Commerce &Industry, the Financial Intelligence Unit of Liberia (FIU), the Liberia Revenue Authority (LRA) and the Liberia Petroleum Regulatory Authority (LPRA).
The One-day session was preceded by a monthlong BO awareness campaign across Liberia by the National Steering Committee.
When established, a Beneficial Ownership Regime is expected to help National Government to reduce the risks of various forms of corruption, tax evasion, bribery, fraud and resource mismanagement while at the same time enabling the Civil Society including the media to further probe extractive and non-extractive sectors and to hold government, corporate entities and other businesses to account. It is expected to be hosted at the Liberia Business Registry (LBR)
About 113 Countries worldwide have so far committed to using Beneficial Ownership transparency as a tool to combat illicit financial flows, particularly in high- risk sectors such as the extractive sector. Liberia as an EITI implementing Country is under obligation (Requirement 2.5, EITI 2019 Standard) to establish and disclose beneficial ownership information on its extractive sector. To this end, the Country has since 2017 taken manifold strides towards the establishment of a BO Regime with the Multi-Stakeholder Group developing a Roadmap in compliance with the than 2016 EITI Standard.
In 2021, in addition to international commitments made under Inter-Governmental Group against Money Laundering in West Africa (GIABA) and Financial Action Task Force (FATF), the Liberian government confirmed the willingness to participate in the Opening Extractives Programme in July 2021 and set up a BO National Steering Committee to implement the Opening Extractives Programme.
According to the LEITI Head of Secretariat, Liberia is expected to have a fully functional BO Register by in the coming months or early 2023.